5 things we learned
Submitted on 14 September 2017 - 2:38pm
Real Madrid are hoping to make it three Champions League titles in a row this season and got off to a flying start by beating APOEL Nicosia 3-0 at the Bernebeu.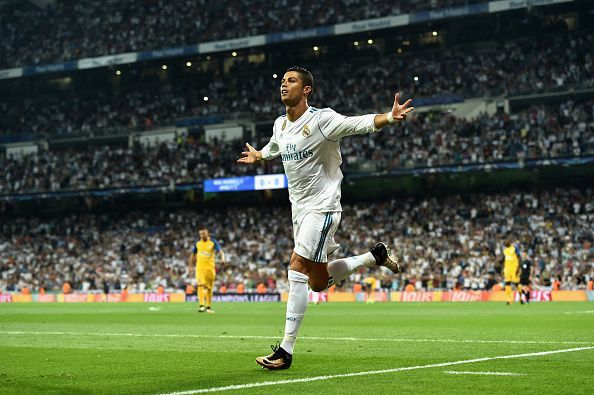 Zinedine Zidane selected a strong side and was rewarded with a routine victory that could set the tone for another superb season in Europe. Here we present five things we learned from the game:
Cristiano Ronaldo is still the king of Europe
Ronaldo won a fourth Balon d'Or in 2016 and is a dead cert to take his tally up to five this year after driving Real to a Champions League and La Liga double with his heroic goal scoring exploits. That will move him level with his great rival, Barcelona's Lionel Messi, as the two most decorated players in the award's history. Competition between the duo will be fierce for 2018 as one of them could move clear on six wins.
Of course, someone else could interrupt their duopoly, but that has not happened since Messi first won it in 2008. It could depend on which team goes furthest in the Champions League and Messi laid down the gauntlet by putting Juventus to the sword with a well-taken brace in Barcelona's 3-0 victory over the Italian champions on Tuesday.
Not to be outdone, Ronaldo opened the scoring against APOEL after just 12 minutes with a smart finish, and added another from the penalty spot. Real have missed his attacking prowess in La Liga, where a five-game suspension for pushing a referee has kept him sidelined, and he proved his worth once more with a match-winning display on Wednesday.
Real Madrid justify their favourites tag
If you have a look at betting markets, Real are the outright 7/2 favourites to win the Champions League, while APOEL are 5,000/1 outsiders, so this was always going to be a bit of a mismatch.
Still, Zidane treated the fixture with respect as he brought Ronaldo into the fold and the only player he rested was Toni Kroos. While rivals like PSG and Man City went crazy in the transfer market this summer, Real were relatively inactive and actually recorded a huge profit by offloading Alvaro Morata and Danilo and earning a hefty loan fee on James Rodriguez.
But Real did not need to spend as they have been head and shoulders above every other team in the world since Zidane took over. They have a magnificent blend of youth and experience, with real strength in depth and the ability to marry attacking flair and defensive nous to devastating effect.
That was apparent on Wednesday night as they kept a clean sheet, restricted APOEL to just one shot on target, enjoyed 70% of the possession and banged in three goals for good measure. They look every bit as brilliant as they did last season and they are the team to beat in Europe.
Bale feels the heat
Given Real's sheer dominance on the night and their manifold recent successes, you would expect fans to be jubilant. But they are a demanding bunch at the Bernebeu and they took out their frustration on a familiar target: Welsh winger Gareth Bale.
He eclipsed Ronaldo's world record fee when he joined the club and has played a hand in some of their greatest recent triumphs, but the former Tottenham star has struggled to win over the fans. He teed up Ronaldo for the opener and looked lively, but that was not enough to escape the boo boys. This has been an ongoing issue for the Welshman for the past year as he has struggled with injuries and form. Zidane is a huge admirer, but if this persists Bale could agitate for a move away, and Premiership clubs would clamour for his signature.
Los Blancos will face far sterner tests down the line
This was about as routine a victory as you will ever see in the Champions League. Zidane's men barely broke a sweat and toyed with their unheralded opponents all night long. You had the impression that they could have doubled their goals tally if they ramped up the intensity on the night, but instead they preserved their energy.
There are two strong teams in this group in Tottenham and Borussia Dortmund, and Real will have to be at the top of their game to seize top spot, and keep dialling it up ahead of potential clashes with the likes of PSG and Barcelona.
Don't shave pimples
Real star Marco Asensio missed the game with one of the most bizarre injuries imaginable: he suffered an infected pimple while shaving and could not pull his socks up. That is up there with David Batty being ruled out after his two-year-old ran over his leg on a tricycle and Rio Ferdinand straining a tendon when playing Pro Evo.
Author bio
Martin Green is an experienced sports writer and has been covering European football for many years.