Cristiano Ronaldo Shop


WRISTBANDS - £3



£3 including P&P
SOLD OUT

EURO 2008! England didn't make it, so who are you supporting?!

LIMITED EDITION - EXCLUSIVE!

This exclusive two-color Portuguese red and green coloured rubber Wristband will let everybody know who you want to win! Just £3 to anywhere in the World! Band reads "I'm Supporting Cristiano". UK ONLY.

TSHIRTS - £12


£12 including P&P
SOLD OUT

Buy your very own Cristiano Ronaldo T-Shirt and be the envy of all your friends!

The caption reads "There is only one..." with "Ronaldo 7" on the back.

The T-Shirt is available in all sizes (S, M, L, XL, XXL) in Red.

FAN CLUB - £15



Access + Photosets!
SOLD OUT

Sign Up for the Cristiano Ronaldo Fan Club - For the Biggest Ronaldo Fans!

The subscription is with cristianoronaldofanclub.net, who will send out a 10 image Photo-set and give Ronaldo fans access to a massive image and video galleries!


SIGNED BY RONALDO


We've linked up with Red Hot Football to offer you some fantastic hand-signed Ronaldo prints at SALE prices! Stock clearance so ONLY a few left of each photo!
All four options are high-resolution A4 (12" by 10") photos, that have been hand-signed by Cristiano Ronaldo himself. They are NOT re-prints or pre-prints, but genuine hand-signed photos. There is limited stock, as Red Hot Football are clearing out their stocks of him in a United shirt - meaning bargain prices!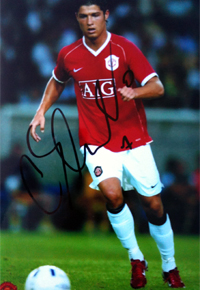 Hand-signed A4 Photo of Cristiano Ronaldo when he was playing for Manchester United.
SOLD OUT