Ronaldo in court for tax allegations
Submitted on 10 August 2017 - 8:21am
Real Madrid star Cristiano Ronaldo began his preparations for the new season with a visit to a Madrid court in Pozuelo de Alcaron, where he had a hearing for his tax fraud allegations. The Portugal international enjoyed a top campaign with the European champions last term as he celebrated a La Liga and Champions League double.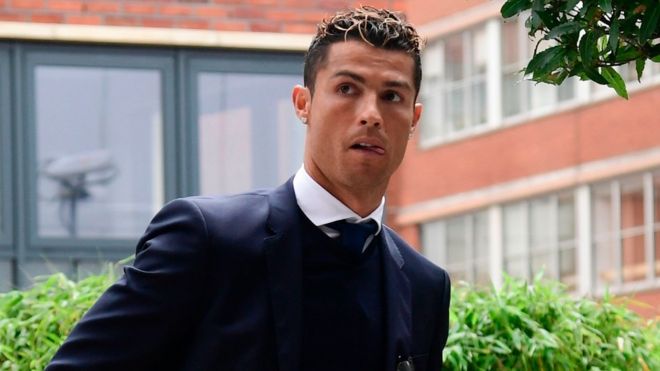 With the allegations hanging over him, there were rumours that he would be moving on from Real Madrid as soon as he could, with the latest online betting making his former club Manchester United the favourites to land him - especially after PSG chose to spend their entire transfer budget on Neymar.
The Euro 2016 winner had been planning for the Confederations Cup with Portugal when he was accused of failing to pay taxes worth £13.1m to the Spanish tax authorities. Initial claims were that Ronaldo could leave Real Madrid during the summer transfer window but Los Blancos' hierarchy managed to convince him that he is a vital part of their plans - though the Spanish ruling may change all that.
Ronaldo appeared for a 90-minute session in the local court on Monday, but he opted to give the media a miss as he took an underground route to get to the place.
Shortly after the hearing, Ronaldo released a statement through the help of one of his advisors, which read: "Those who know me know I ask my advisors to keep everything up to date. It is time to let the justice system work. I hope there is a fair decision. In order to avoid unnecessary pressures, I have decided that I will not comment on the matter further until a decision is reached."
Both Ronaldo and his management have denied any wrongdoing during the hearing with the attacker maintaining his 'conscience is clear'. The four-time Ballon d'Or winner (soon to be five-time!) is expected to return to training with Real Madrid this week, but it is highly unlikely that he will feature against former club Manchester United in the European Super Cup with his fitness on the low side.
Instead, Ronaldo could make a much-awaited return against Barcelona, who they face next in a two-legged Spanish Super Cup tie.
Real Madrid have looked in great shape in the pre-season, in spite of the fact that they have yet to land any big-money targets, with both Mbappe and Aubameyang still at Monaco and Dortmund respectively. With three weeks to go until the transfer window closes, it will be very interesting to see how this plays out.